You've already probably pre-ordered your new Samsung Galaxy S5 and can't wait for it to arrive at your doorstep next month. Although it won't start shipping until April 11, you can still start thinking about what kind of case you're going to want to protect it. To help you make such a touch decision, we've wrangled up some of the best cases for your new S5 so that you don't have to worry about scratching or dropping it the first day it's out of the box so that you can fully concentrate playing with its new features like the fingerprint sensor to use in place of a passcode (and to make payments via PayPal) and its' heart-rate sensor. For even more protective smartphone cases, you can check out our best cell phone cases guide.
11. Case-mate Stand Folio Case
Comfortably watch movies or browse the net with the Case-mate Stand Folio Case, while at the same time protecting your new smartphone from falls and scratches for $40.
10. Incipio Stowaway Case
The Stowaway Case is both a protective case and a wallet. It can hold up to three credit cards or IDs and is made with a Flex2O soft shell core, making it shock absorbent for $34.99.
9. Belkin Wallet Folio Case
Get incredible protection from drops and scratches with the new Belkin 2-in-1 Wallet Folio Case that also gives you lots of storage space. You won't need a wallet with this case since it has space for credit cards cash, receipts and lots of other stuff. It also folds out as a viewing stand so you can watch videos or browse the net. It comes in four different color combos for $39.99. For your S4, have a look at 15 of the best Samsung Galaxy S4 cases that offer rugged protection, style, and more battery life.
8. S View Cover
The S View Cover replaces the phone's battery cover, but has a interaction window in the front so you can easily access the screen.
7. S View Wireless Charging Cover
This Wireless Charging Cover is like the regular S View Cover, but features a charging coil that's integrated in the back.
6. Spigen Neo Hybrid Case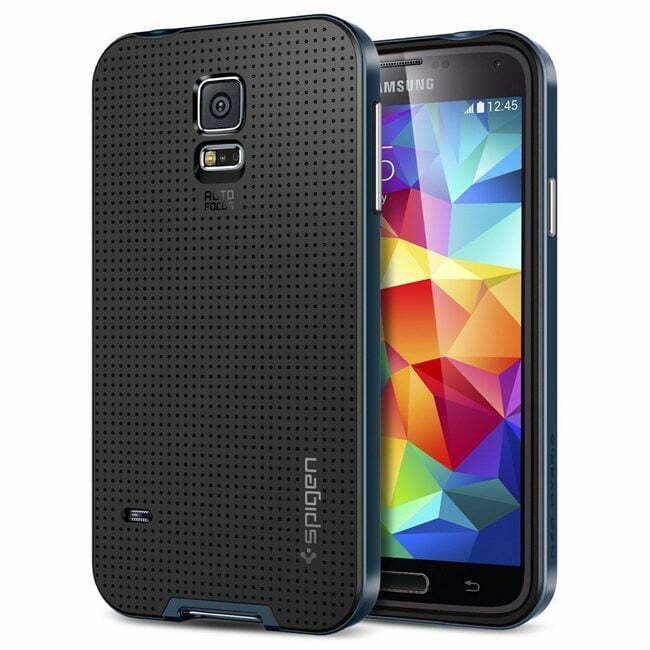 Protection is what you get with the Spigen Neo Hybrid Case for the new S5. It combines flexible, textured TPU with chromed accented polycarbonate frame that's available in a variety of different colors. Ports and buttons are all easily accessible, while the case doesn't add any extra bulge to the phone's slim frame. Amazon will have it for $26.99.
5. Case-mate Slim Tough Case
See more: : ZenWiFi XD6 review (vs ZenWiFi XT8): An Excellent (Wired) Mesh Alternative
Durable protection in a thin design is makes the Case-mate Slim Tough Case a great option for your Galaxy S5. It features a two-piece chassis that has a metallic bumper and metal bumpers that provide both style and protection. Its bumper rim sticks out just a bit over the screen so it doesn't touch the surface when the phone is placed face down somewhere. Get it for $35.
4. Incipio NGP Case
Shock absorbent and flexible is how to describe the Incipio NGP Case. The silicone and plastic translucent skin case is available in four colors and is stretch and tear resistant. For only $19.99, you can't go wrong for an everyday case with style.
3. Spigen Ultra Fit Case
The phone will be as snug as a rug in the Spigen Ultra Fit Case that's also patterned in the perforated look of the S5. It comes in a variety of different colors, providing great looks and protection in the same case! Amazon has it for only $6.99.
2. Incipio Feather Ultra Thin Hard Case
The Feather Ultra Thin Hard Case is super light and will protect against scratches and drops. It easily snaps on the back of your S5 so that it keeps the phone's sleek and slim look at all times. You can choose from six vibrant colors, which all have easy access to the phone's buttons and ports for $29.99.
1. Belkin Air Protect Grip Max Protective Case
The dual-layer shock-absorbing Air Protect Grip Max Protective Case features reinforced corners, which proves ultimate protection. It also comes in five different colors and will retain the phone's slim-fittiing exterior despite being a dual-layer case. Get yours for $29.99.
Source:: https://www.mycadie.com
Category:: Devices